The Rock Opera TOMMY, which was first performed by THE WHO in 1969, was originally conceived by Peter Townsend and Kit Lambert with contributions to the development by John Entwistle, Keith Moon and Roger Daltrey.
Music and Lyrics by PETE TOWNSEND
Book by PETE TOWNSEND AND DES MCANUFF
Additional Music and Lyrics by JOHN ENTWISTLE and KEITH MOON
WE HAVE SUGGESTED AN (ADVISORY ONLY) AGE OF 15+
The Playhouse Theatre, Whitstable
Performance Dates:Wednesday 25th - Saturday 28th July 2018
Performance Time: 7.45pm
Ticket Prices: £15
Bookings Line: 01227 272 042
Theatre Box Office Times: 10am - 12pm Mon - Sat
Online Booking: https://www.ticketsource.co.uk/event/245801

Herne Bay's THEATRECRAFT presents...
The Who's Tommy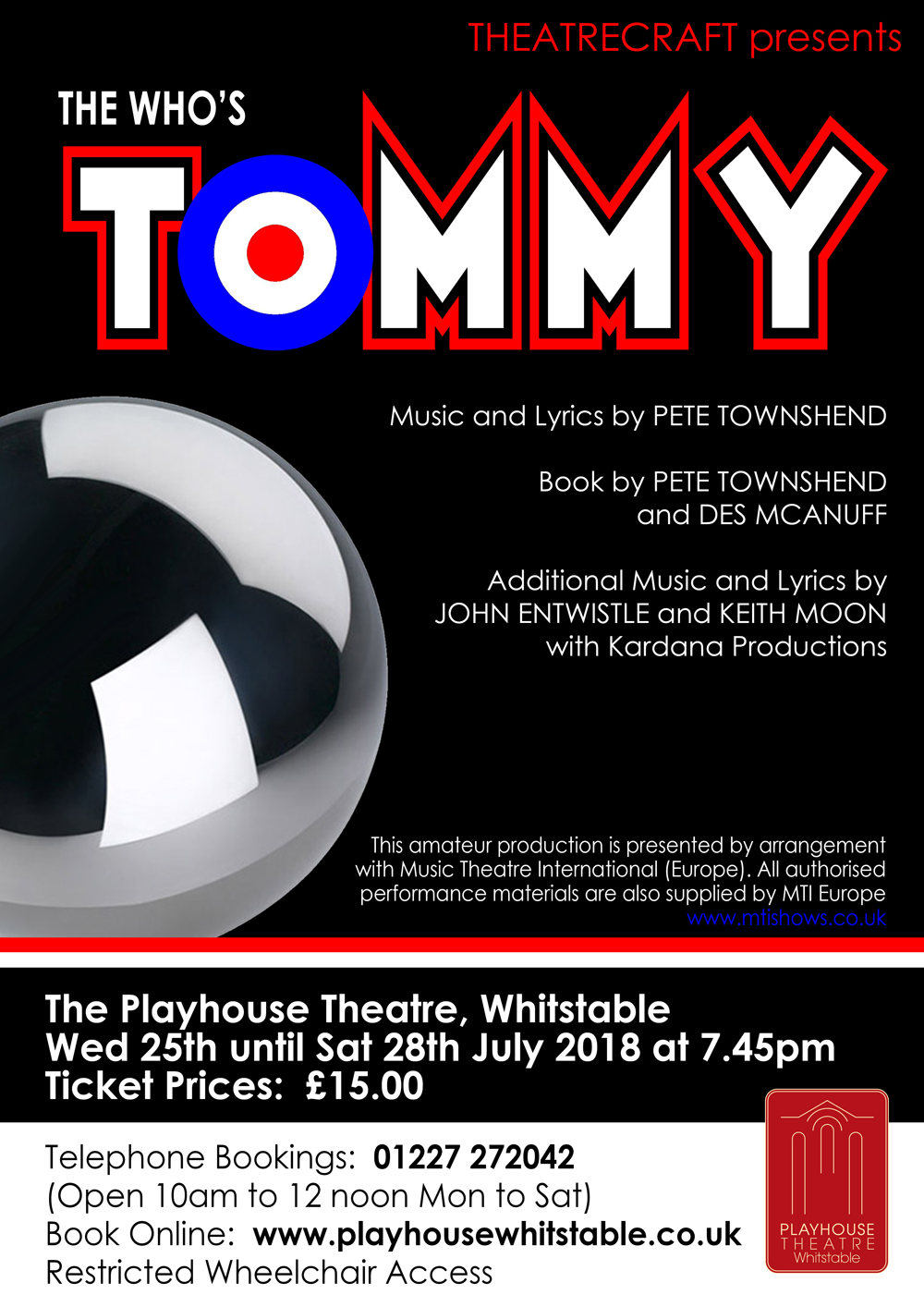 A deaf, dumb and blind boys extraordinary journey from pain to triumph is a sensory-defying rock and roll experience. Based on the iconic 1969 rock concept album, THE WHO'S TOMMY is an exhilarating story of hope, healing, and the human spirit. The story of the pinball-playing, deaf, dumb and blind boy who triumphs over his adversities has inspired, amazed, and puzzled audiences for more than 40 years. This five-time Tony Award-winning musical was translated to the into a high-energy, one-of-a-kind theatrical event.
After witnessing a traumatic family event, young Tommy withdraws into a shell of his own making. He physically shuts himself away from family, friends and society and withdraws into a shell of emptiness. He is alone and it seems beyond hope. Satisfied it seems to lose himself in the very mirror he witnessed the tragic events in, he continues on this journey and withdraws in to a distant world of his own making. Tommy grows up among a dysfunctional family but still he fights on and takes us on his own fantastic journey to becoming a pinball playing international superstar and on eventually on to becoming so much more.
Can Tommy ever allow himself to become the one thing he has always dreaming of?
With a soundtrack that includes SEE ME - FEEL ME, ACID QUEEN, SMASH THE MIRROR, I'M FREE, SENSATION, PINBALL WIZARD and I BELIEVE MY OWN EYES all played by a live rock band, this surely is this Summer's MUST SEE!!!